HOW TO RECOMMEND THE MOST EFFECTIVELY YOUTUBE VIDEOS

You want the videos on your channel to get more recommendations, thereby increasing views more strongly. So what needs to be done? In this article, we will go through all the information about techniques to get suggested videos on Youtube. Also known as SEO video to get more recommendations.
Instructions on how to help videos get more recommendations on Youtube
Recommended videos on Youtube suggested by Youtube are naturally shown up even if users have not subscribed to your channel. The sign to identify the proposed video is the words "Recommended for you".
WHAT IS THE RECOMMENDED VIDEO ON YOUTUBE?
Youtube recommended videos are videos:
Appeared in the right column of videos that users are watching
Appeared at the end screen when users finish watching a certain video
Appeared next a video if the user turns on autoplay mode on Youtube
Thus, when the video is recommended on Youtube, the video will reach more users. From there, the number of views from these videos will increase significantly. And that's also the reason that most YouTubers want their videos to get recommendations.
Videos that get YouTube recommendations show the right column of the currently playing video
HOW TO RECOMMEND VIDEOS ON YOUTUBE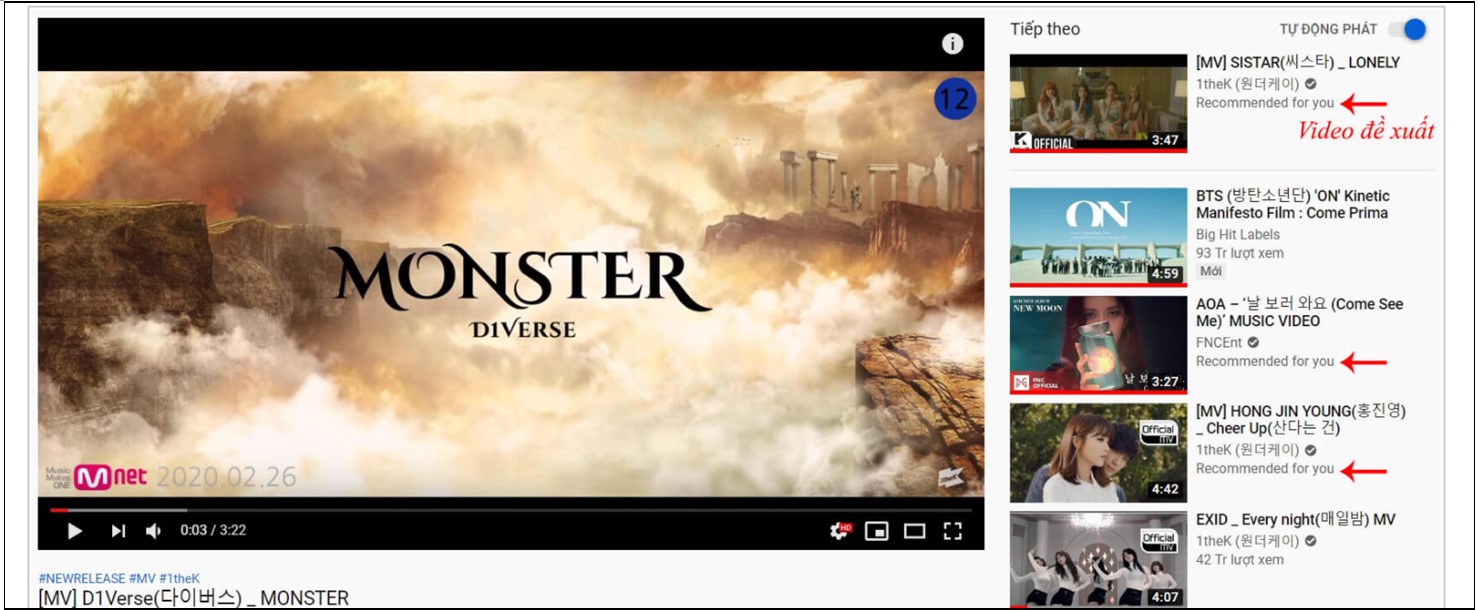 1. Make a habit of watching videos
If you want all the videos on your channel to get recommended, then find a way to make the channel name familiar to viewers. In other words, you need to build a brand for the channel. By these methods:
Channel name is easy to remember
New, interesting content
Familiar image
Then, every time your video gets youtube recommendations, users are more likely to click watch. The higher the video click-through rate from the recommendation, the more recommendations for other videos on your channel will also increase.
2. Quick increase in views
With videos on Youtube, if you want them to get more recommendations, you need to ensure one more criterion that is the number of views in the first time of this video.
Youtube will rely on the view rate of new videos, with the same topic to make recommendations for these videos. For example, the same topic has 100 videos, but your video recently has a sharp increase in the number of views, of course it will be the most recommended video by Youtube.
To sum up: At any point you want a video to be recommended on youtube, it must have a steady increase in views compared to the remaining.
3. Bring videos to the top of search
That is, you will apply such optimization techniques as:
Title tag optimization
Description tag optimization
Tag optimization
Linking videos to multiple platforms
Targeting when users search for a certain topic keyword, your video will show up at the top of the search
This method offers two main benefits:
Increase views for videos steadily
Help the video get more recommendations
Because when your video is already at the top of the search for the topic keyword, it means that this video is the most relevant video of all the other videos on the same topic. Then, by default, the rate of recommended videos on youtube will always be at the highest level.
Help videos get more recommendations by optimizing for search engines
At some point, there will be very hot videos with a sharp increase in views in a short time. At this point, you can create similar, related videos to get YouTube recommendations.
4. Create a hot topic video
Specific examples:
Recently, international group BTS has just released a hot MV called: BTS (방탄소년단) 'ON' Kinetic Manifesto Film: Come Prima
In less than a day, the MV has reached more than 50 million views. That is, in 24 hours, there are more than 50 million views for this video, a huge number.
And now, a series of themed videos: Reaction 'ON' Kinetic Manifesto Film: Come Prima is created.
Immediately these videos also increased views rapidly. It is estimated that there are no less than 1000 reaction videos like this appearing in the last few days
On average, each such reaction video receives 100,000 views, a pretty high number. This number of views is simply increased by:
Recommended by other reaction videos
And most are from the main MV that they react
As such, it can be seen that the recommended video function on youtube is bringing a lot of views for other related videos
Related videos will get each other's recommendations on Youtube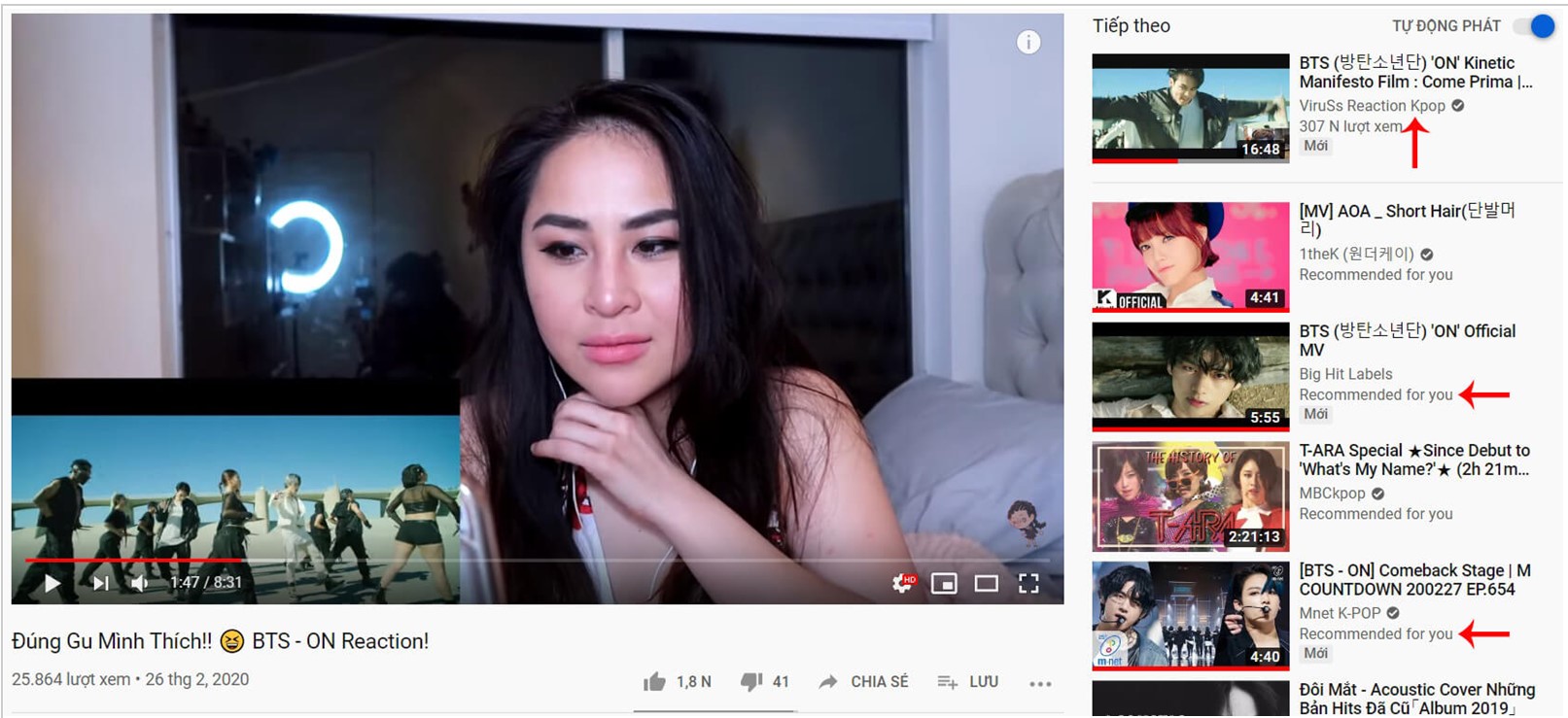 5. Put related videos in playlist
Another way to help videos get more recommendations is that you will group related videos with the same topic into a playlist.
Such a playlist may contain several or more videos. And the important thing is that this playlist can contain only videos on your channel, or videos that are not on your channel.
Thus, you can install a number of videos belonging to another channel that have many views, or have the top search on this playlist with the goal of helping the videos on your channel to be able to get youtube recommendations from videos that are likely to get more views during this time.
Put videos in a playlist to get each other's recommendations.
1kview.com | Youtube, Facebook, Instagram, Tiktok services | Cheapest and Trusted Smm panel